What is the Mode theme?
MODE, is a highly versatile premium Shopify theme by Clean Canvas that helps you revolutionized your Shopify store. Mode is the epitome of adaptability, designed with a high degree of modularity to cater to the unique needs of online stores. Packed with a wealth of professionally crafted features that are indispensable for eCommerce success, it stands as a beacon for businesses looking to thrive in the digital marketplace. Whether you're in the world of fashion, electronics, or any other industry, MODE empowers you to create an online store that not only looks fantastic but also functions flawlessly. Unleash your creativity and elevate your brand with MODE, the theme that sets the standard for excellence in eCommerce design.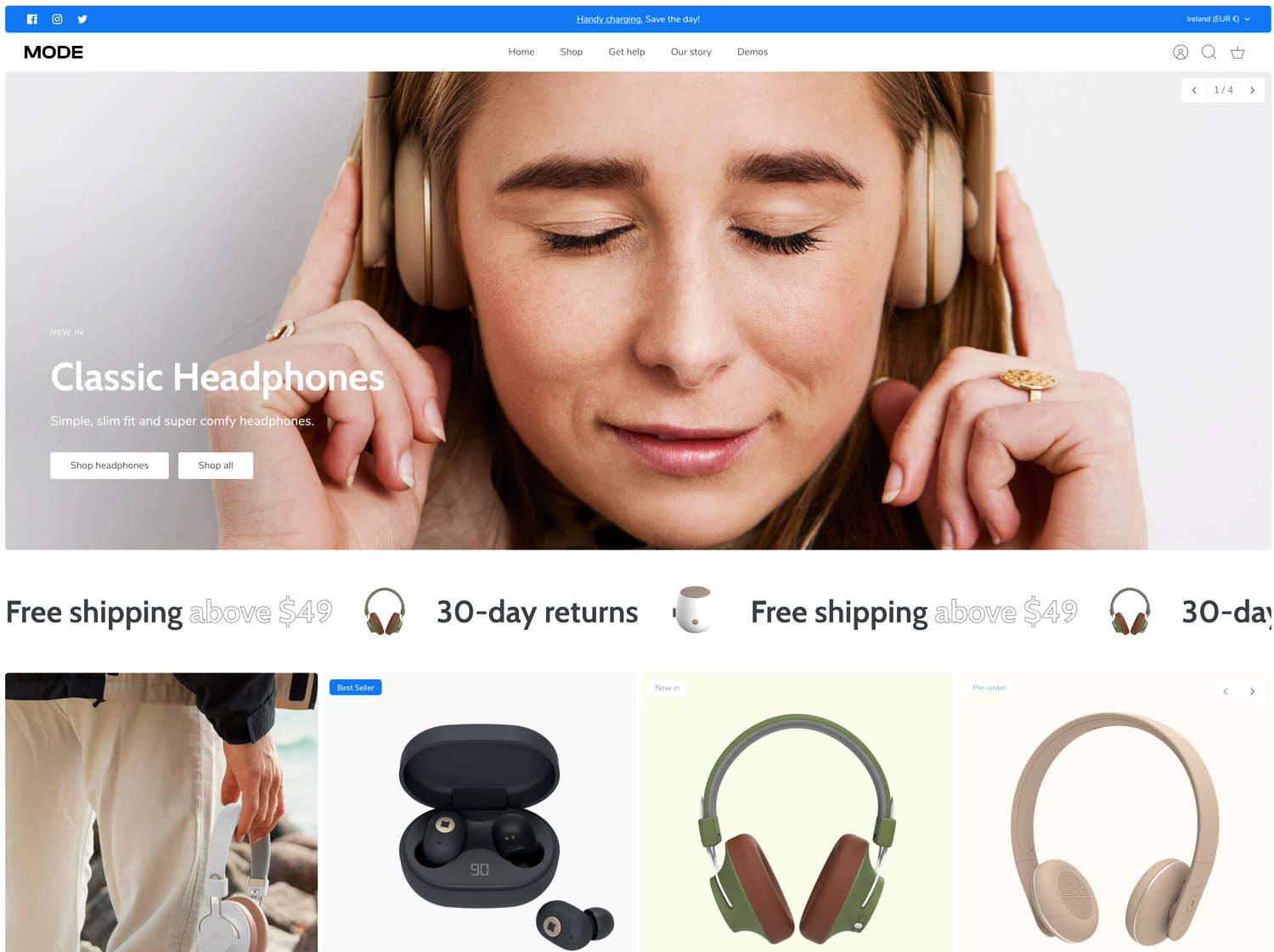 At Clean Canvas, we pride ourselves on delivering high-quality products, optimized for mobile. Our friendly customer support and a wide range of user guides and resources help you get the most out of your theme.
Theme styles
The Mode theme has several preconfigured styles, as seen on the demonstration stores we have created, that provide just a taste of the versatility and range of looks that can be achieved using this incredible theme.
Changing the theme's style or preset is done in the Shopify admin area, and the process is the same for all themes. Here's how you can do it:
From the Admin, go to Online Store > Themes > Customize.
In Theme Settings, click to expand THEME STYLE.
Choose a style from the options provided.
Click Change Style to confirm your selection.
Changing your theme's style will affect your store's settings, look, and feel. Some settings will be lost when you change your style, but you will not lose any content from your store.
Try Mode for free
MODE, like all premium themes on the Shopify Theme Store, comes with a unlimited trial time so you can test out the theme and get familiar with it's specially tailored UX for ease of use and quick to market setup. During this trial period you can customize and configure the theme to create your desired storefront. Once you are ready to launch you can then purchase the theme to active it on your storefront.
Visit the Shopify Theme Store and choose Mode.
Click Try theme to add the theme to your online store.
In your Shopify admin, click Online Store > Themes.
In the Theme library section, click the Customize button to open the theme editor or, to preview, use the ... button to open the actions menu, then click Preview.


Buy Mode from Shopify Theme Store
Once you have installed Mode in your online store, you can choose to purchase it. Do note that you can only publish themes to your online store that you've purchased.
Also, it is important to remember that themes are a single use product on a single store account [as per the Shopify terms of service section 9.4] and each store usage requires an individual purchase for permitted rights to leverage the theme.
In your Shopify admin, click Online Store > Themes.
In the Theme library section, click Buy to begin the transaction.

FAQs
How do I update my theme to a newer version?
To update your theme to a newer version, follow this guide on How to update your theme.
How do I share a theme preview with others?
If you are about to launch your online store or plan to change its look and feel by publishing a new theme, you can seek feedback from others by sharing a preview of your theme. You can create a link that others can use to access a preview of any theme that you've added in your Shopify admin. The theme doesn't have to be published to be shared.
A preview link enables others to explore your online store but prevents them from accessing the checkout. After you create a preview link, it remains active for two days. You can create new links as often as you like; creating a new one won't affect old preview links.
From your Shopify admin, go to Online Store > Themes.
For the theme you want to share, click the ... button to open the actions menu, then click Preview.
On the preview bar at the bottom of the page, click Share preview. A window containing a unique share link will open.
Click Copy link to copy the link to your clipboard.
Paste the link into emails, chats, or on social media to share.
Can't find what you're looking for?
Our support staff are here to answer your queries, so don't hesitate to write to us!
Contact us