Learn how to upgrade your theme to a newer version.
What is a 'theme update'?
A theme update refers to the process of upgrading the theme used in a Shopify store to a newer version. We release updates to our themes to introduce new features, improve performance, and enhance the overall functionality and appearance.
How to update a theme
If you're looking to update your theme, there are various scenarios to consider. To ensure you take the appropriate action based on your specific situation, refer to the official Shopify documentation on updating themes. By reading this guide, you can gain insights into the recommended steps to follow when updating your theme.
Theme changelogs
Our changelogs can be found on the theme listing page under release notes. To view them, follow the steps below.
Open the Shopify Admin, and click on Online Store > Themes.
Click the down arrow next to the version number.
Select View release notes.
What does the 'Updates are not supported' message mean?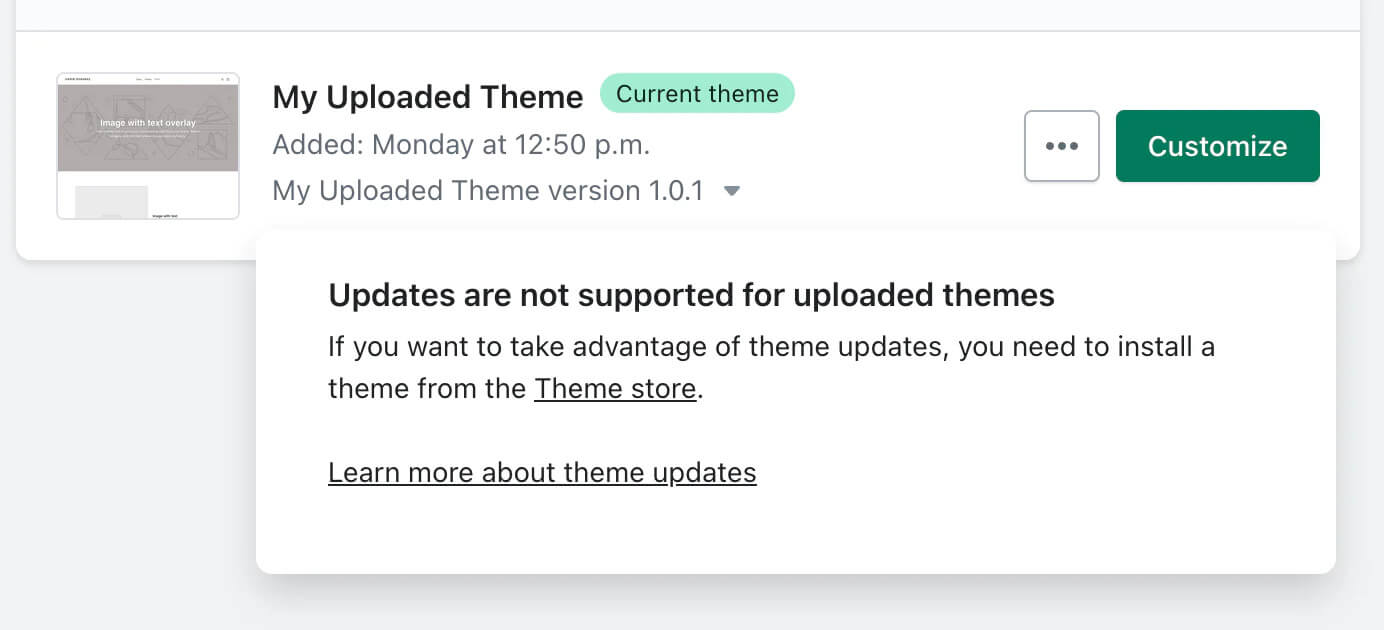 This message means the theme zip file was uploaded instead of being installed directly from the Shopify theme store.
Shopify can only update themes installed from the theme store. It cannot update theme files imported from another store.
To get the updated theme, it will need to be downloaded from the Shopify Theme Store.
If the store is inactive, contact the Shopify billing team to request the transfer of the purchased license to your new account. Only Shopify can handle these requests, so for any billing inquiries, reach out to Shopify directly.
If you acquired the theme from a third-party source outside of Shopify. We do not sell our themes outside of the Shopify theme store. Please be aware that this goes against Shopify's TOS. A purchase of the theme will be required in order to download any future updates.
FAQs
Are theme updates free?
Yes, all theme updates are free.
Is it mandatory to update my theme?
No, you only update if you want to. Your theme will continue to function. You would only need to update if there are certain features you would like to have in the newer version.
Is my custom code is carried over when I auto-update?
No. If you, a developer or an installed app has made any code changes to your theme, these won't be included in the updated version. If you want to keep these changes, then you, your developer or the App's support team will need to copy your code to the new version or reconfigure some apps.
This falls outside the scope of our theme support and we will guide you to take the above actions.
Can you manually update my theme?
No, we do not provide this service. We recommend reaching out to Taskhusky, a trusted partner specializing in the provision of these services and customizations.
Can I get the latest features without updating?
No, we do not offer any service like this and will suggest you update. New features and improvements in an update may require changes to the theme's underlying structure, such as the way code is organized or functions are implemented. Older versions of the theme might lack these structural changes, making it difficult to incorporate the new features seamlessly.
Can't find what you're looking for?
Our support staff are here to answer your queries, so don't hesitate to write to us!
Contact us