An intuitive way to display the images/media assets associated with a particular product variant.
What is Media grouping?
Media grouping (or Grouped variant media) is a way to display the images/media assets associated with a particular product variant on a product page when they are selected by a customer.
Benefits of Media Grouping
Enhance your customer's shopping experience by only showing relevant assets with the Media Grouping feature in our themes.
This smart feature will display only the related group of product variant images and media when your customers select a variant, keeping your product pages organized and improving their focus. Say goodbye to cluttered product pages and hello to improved customer engagement and conversion!
For instance, our Media Grouping feature will only show the images related to the selected variant instead of showing all 30 images (10 images per variant) for a product with three variants - Red, Green, and Blue.
How to set up Media Grouping
Firstly, you need to enable this it in your Theme Settings on the Product Page: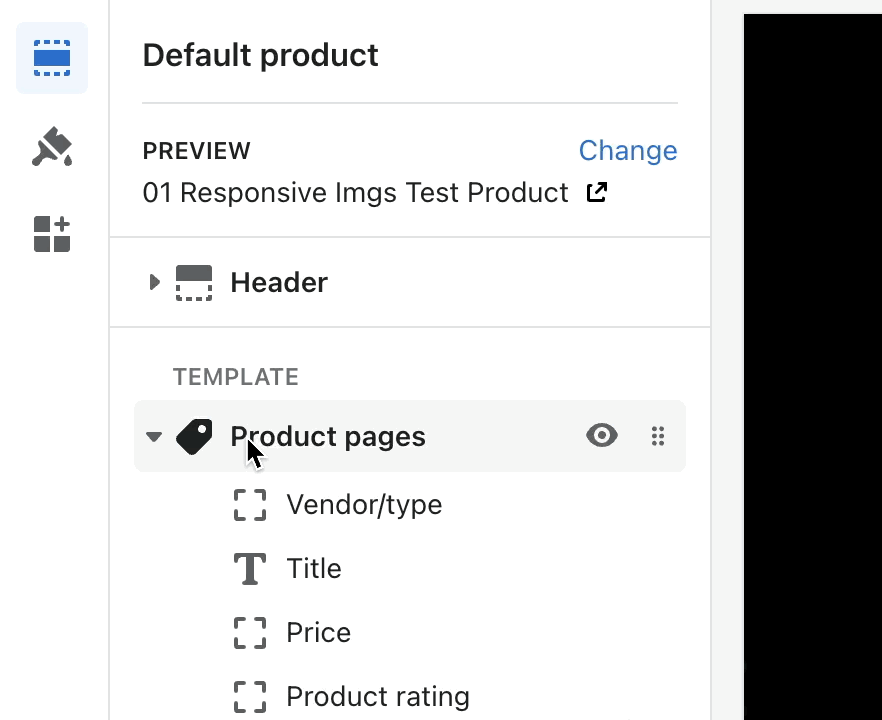 Once you have this enabled, simply follow the steps on organizing the Product variant and the Product images/media.
Variant set up
You must specify the name of the option under which the variants will be grouped (e.g. 'Color'). This can be found in the Shopify Admin, in Product details for any given product under 'Options'.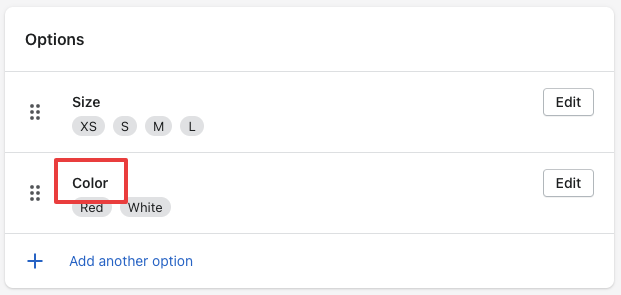 If your store is multi-lingual and the option name varies in these languages, you can enter multiple option names, one for each language, and separate them with a comma. (e.g. Color, Couleur, Farbe)
Image setup
Currently, as the Shopify admin dashboard does not support assigning multiple images to a single variant, you must make sure that your product images are ordered in the following way for this setting to work as intended.
Order your images as groups so all variant images are together in sequence. The order of how your variant images should be sequenced in the Shopify Admin should look like this:
Make certain that the first image of each variant is assigned to each of the options in the Variants section of your Product setup. In the screenshot above, the very first Red image (number 1) should be associated with all Red variants as shown in the screenshot below. Then the very first White image (number 7) added to all White variants. Once this is done, your variants will look something like this:

If you have products that don't lend themselves to the use of Media Grouping, you can create alternate product templates to make use of Media Grouping on some products, and exclude it from others!
FAQs
Can I use media grouping for more than one option per product?
No, media grouping will apply to only one variant option per product template e.g. Color or Size.
Can't find what you're looking for?
Our support staff are here to answer your queries, so don't hesitate to write to us!
Contact us