Search prompts, AI-powered voice search and more!
Enterprise stands out among the themes available on the Shopify theme store by providing an AI-powered voice search feature.
Additionally, the Search prompts serve as an enticing tool which will guide and inspire customers to explore and search for particular products, collections or pages. It will also quickly introduce customers to your product range and accelerate the time it takes for them to familiarize themselves with your store's offerings.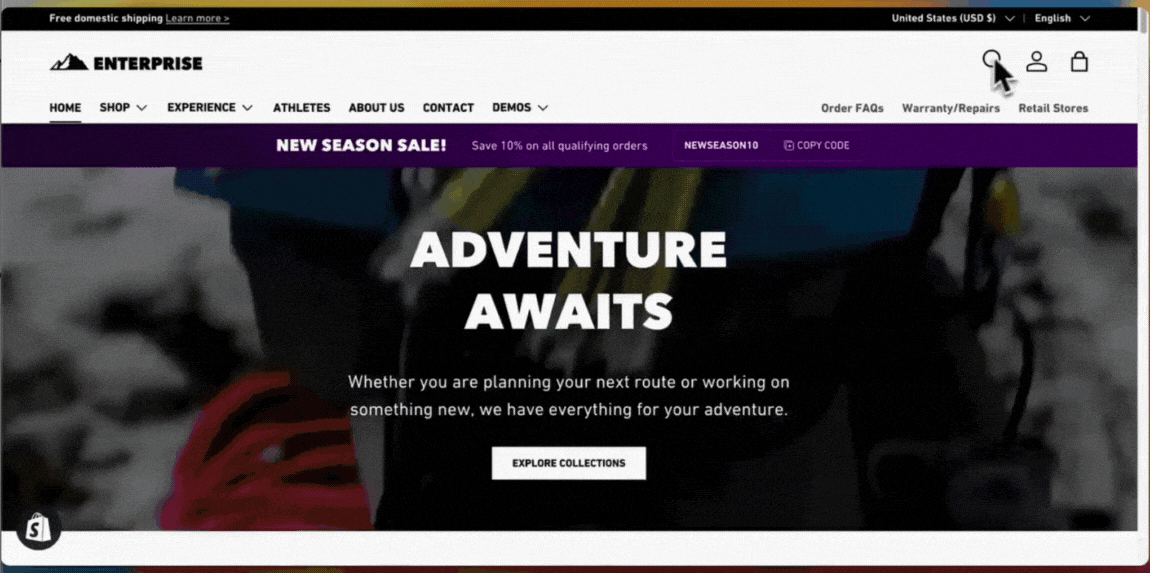 How to set up quick search
As the customer types in their search term into the search bar, relevant Products, Collections and Articles will dynamically appear. You have the ability to customize the types of results that customers will encounter, aiding them in identifying whether your store offers their desired result.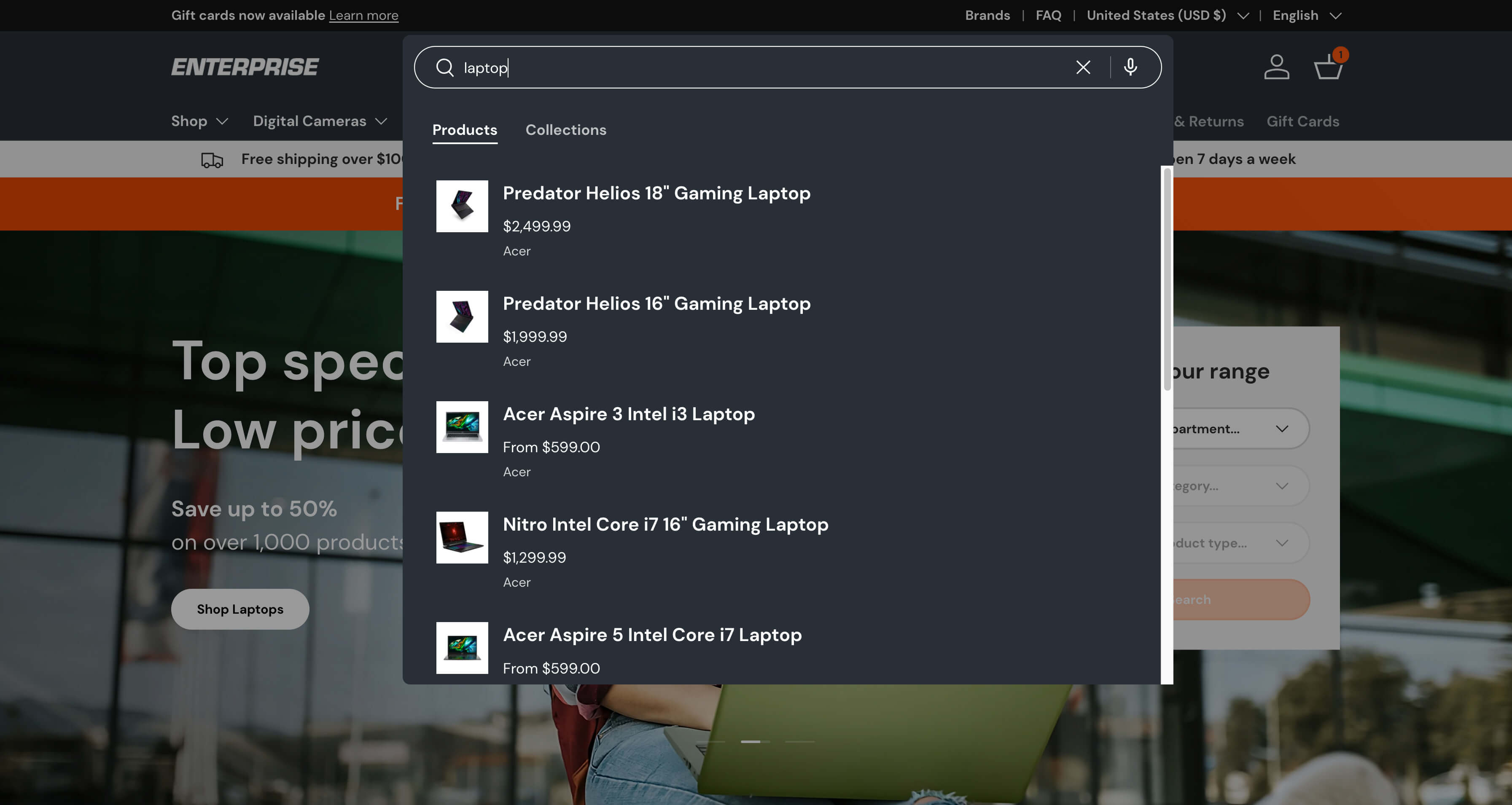 Open the Theme editor, and click on Theme Settings > Search.
Within the Search settings, check the Enable quick search setting.
In the Search results setting, check the types of search results to be displayed and click Save.
How to set up product type dropdowns and suggested search terms
Following on from the above, in version 1.3.0 there is also the functionality to show a dropdown next to the header search box, thereby allowing customers to pick a particular product type to search, and to show suggested search terms.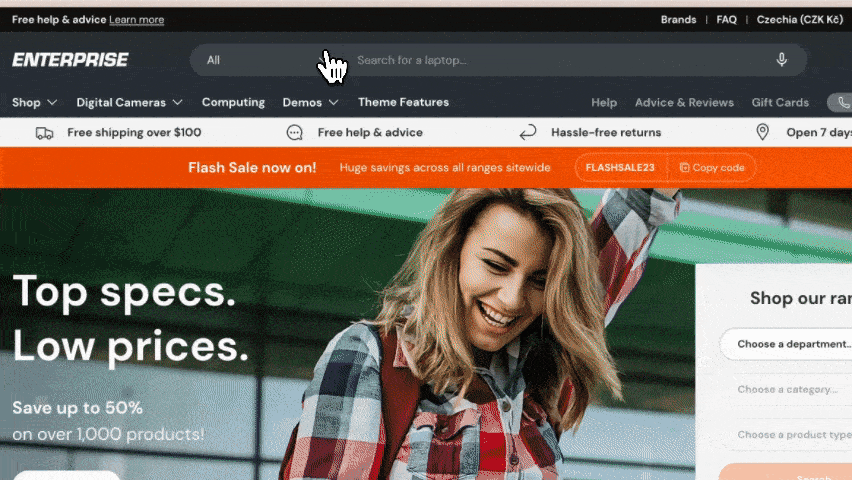 Open the Theme editor, and click on Theme Settings > Search.
Within the Product types settings, select Enable product type dropdown.
Within the Quick search settings, select Show suggested search terms.
Click Save
How to set up speech to search
Open the Theme Editor, and click on Theme Settings > SEARCH.
Within the Speech search settings, check the Enable speech search setting.
Choose the desired color in the Speech pulse color setting. The mic icon will pulse this color when it's listening.

Speech search is not supported by all devices/browsers. The option will not present itself to the customer when a device is not compatible.
How to set up search prompts
Search prompts are subtle animations in the search bar that can be a great way to attract a customer's attention and quickly familiarize themselves with your product range.

Open the Theme Editor, and click on Theme settings > SEARCH.
Within the Search prompts settings, add the prompts that you would like the search bar to reveal.

On mobile, if the prompt's text is longer than the display area of the mobile device it will get cut off.


To disable and display static text scroll down and uncheck Type in search prompts on mobile. When this is enabled, the first prompt you entered will be displayed as static text on mobile devices so ensure it makes sense when read out of context of the other two messages.
How to add a custom collection message
Enterprise allows you to add a custom message below each collection within your search suggestions. This could be used to highlight any distinguishing feature about a collection, e.g. it may have products that are on sale, or could be a new collection.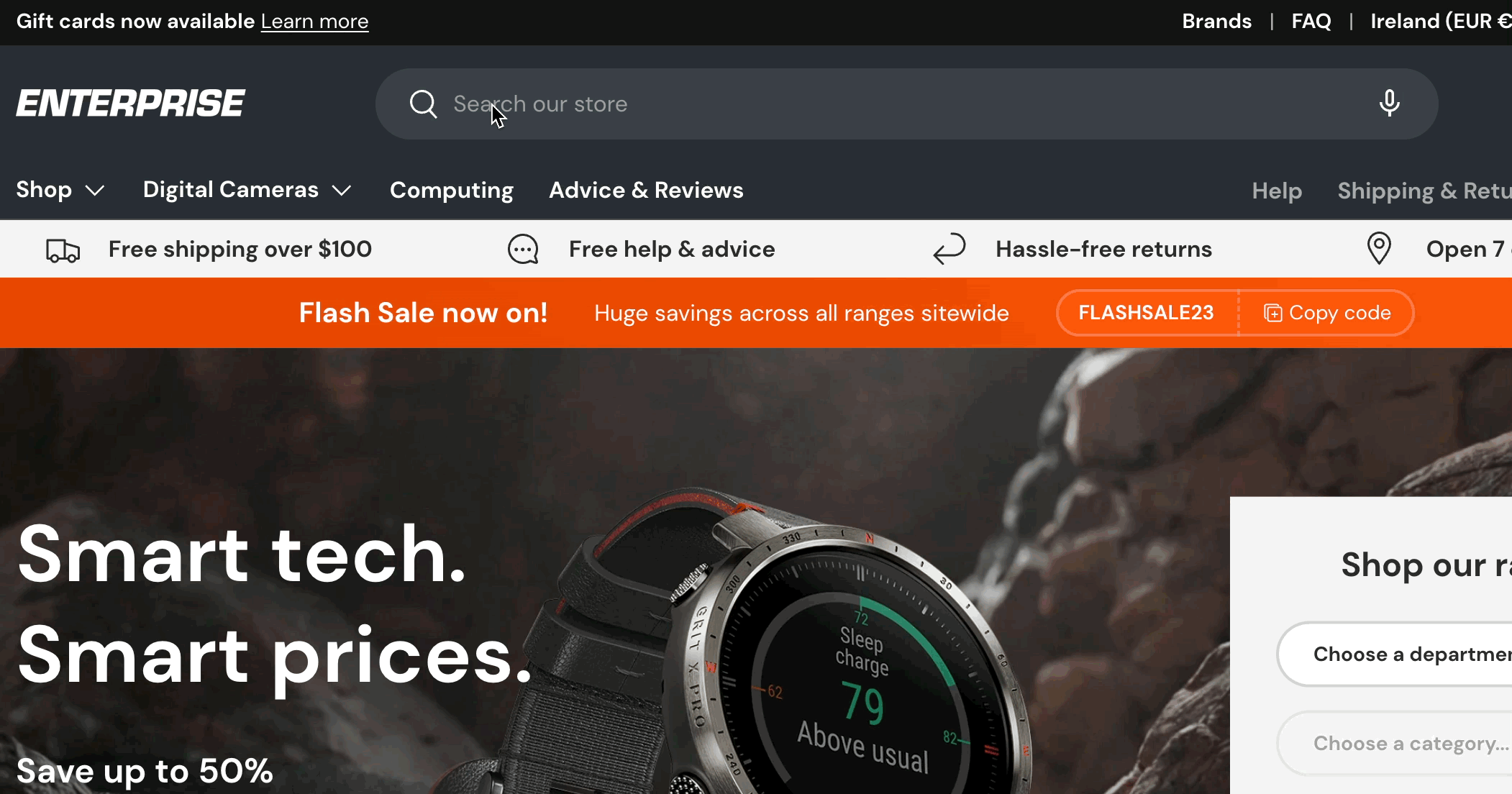 Open the Shopify admin and click on Settings > Custom Data > Collections > Add definition.

Under Name add any text that helps you identify it, e.g. 'Collection label'.
Under Namespace and key add 'theme.label'.
Under Select type select Single line text.
Ensure One value is selected and click Save.

Now that the metafield has been added, it will need to be assigned to the relevant collections on which it should appear. To do this, navigate to Products > Collections and select the relevant collection.

Scroll down to the Metafields area.
Select the collection metafield created above and enter the Custom collection message.
Click Save.
After a minute or two, you should be able to search and see the Custom collection message appear under the collection.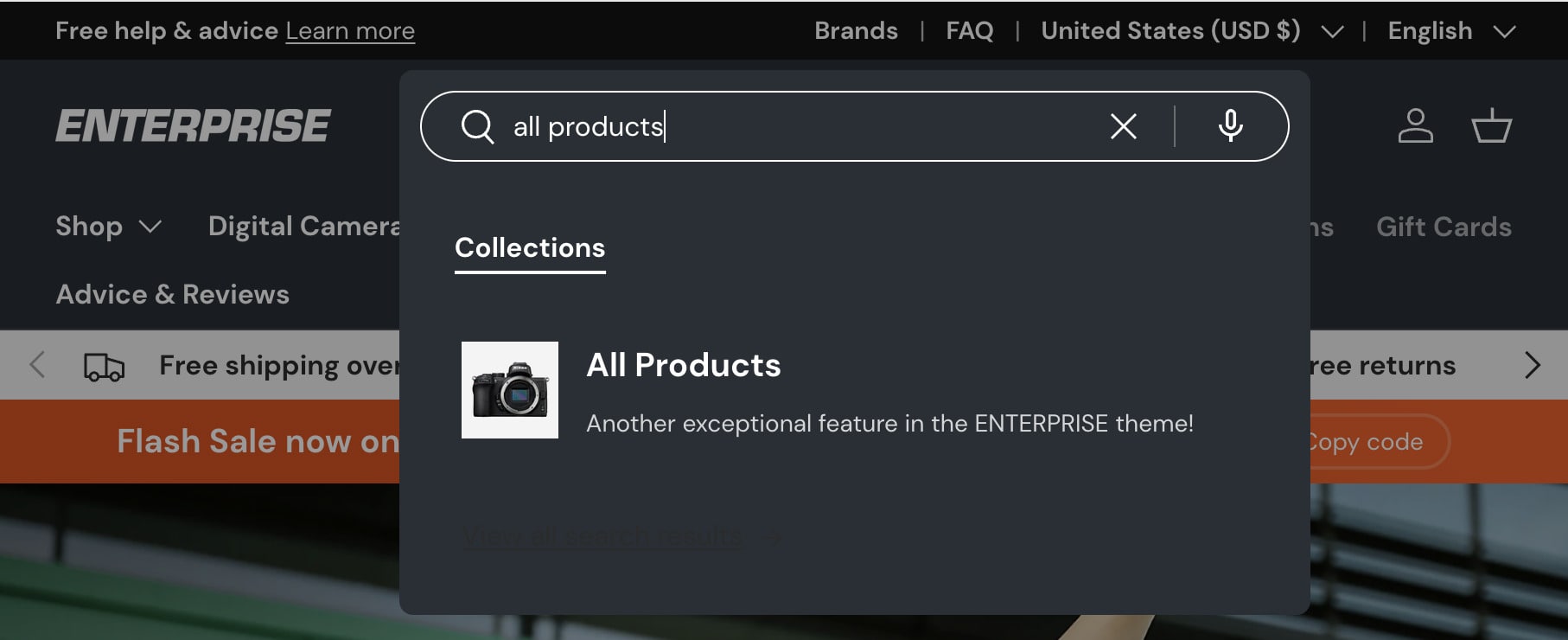 How to hide/minimize the search bar
Open the Theme Editor, and click on the Header section.
Within the Search settings, you can control how the search bar can be displayed based on the device. Or it can be disabled entirely.

FAQs
Will the search results page work in other store languages?
Yes, the search will work in other languages. Even if you search for the product in English on the Spanish version, it will serve up the correct product.
Will the predictive search work in other store languages?
Predictive search is available for stores in the languages list on Shopify Supported languages documentation. Shopify determines the predictive search, not the theme.
Is it possible to include relevant keywords for products to improve their visibility in search results?
Yes, you can use Shopify Search & Discovery app to add Synonyms or Product boosts to improve their visibility in search results. For guidance on this, refer to the Customize synonyms guide and the Shopify Customizing product boosts guide.
How do I set search scope and control if out of stock products appear in search results?
Set search scope to include or exclude products, pages, blog posts etc in Theme Settings > Search. These settings override those in the app. Choose how to display results for out of stock products using the Shopify Search & Discovery app scope settings.
Can't find what you're looking for?
Our support staff are here to answer your queries, so don't hesitate to write to us!
Contact us